The White Tiger [2021]
Following the 2020 BAFTA nominees is akin to following an abysmal opening act. Like if Kendrick Lamar had to follow Lil Pump or the James Franco version of Riff Raff. The 2020 BAFTA nominations, resulting in the trending hashtag #BAFTASoWhite, saw all white acting categories AND all male directing categories. Quite simply, there is no place for this kind of single-minded tunnel vision. There is NO WAY this should ever happen for any awards, I mean ever. The fact this happened in 2020 is just absurd; it's an abuse of power by the voting committee and a complete and utter failure on the British Academy of Film and Television Arts.
After last year's event, the BAFTA went through a rigorous series of investigations into their internal proceedings to ensure they could prevent this from happening again.
But I must reiterate, this should never have happened in the first place. Beyoncé can put together an all-black band and dancers for Beychella, and meanwhile, BAFTA can't find a single non-white actor/actress that should've been heralded for their work last year??? It takes effort to be that stupid.
Progressing forward, BAFTA carried out a 7-month-long internal investigation which resulted in about 120 changes to their voting procedures, as well as review for how the people who do vote consume the films to be voted on.
Here are some of the most notable changes:
Directing longlists
Not only does the Director category now have 6 nomination slots, as opposed to 5, but there is now a process to create a list of 20 best directors as a longlist for nominations. The directing chapter of BAFTA works to put 16 directors in that list, 8 male and 8 female. Then there is a special jury that adds an additional 4, where 2 are male and 2 are female. All resulting in a nominating jury selecting 6 nominees out of that list of 20.
Acting longlists
Similar to the directing changes there is now a Chapter system to the acting categories where the acting chapter of BAFTA ranks their top 15 performances, where 12 are longlisted. Another special jury selects another 3 to add to the list, bringing the total to 15. Again, all resulting in a nominating jury voting on the 6, another increase from 5, nominations on the list.
Actually watching the movies
One of the biggest problems plaguing film awards is that the people voting for nominations and the winners haven't even seen the films they could be voting for, or nominating. I also mean "plaguing" in the same sense that people go into packed bars in Florida partying with no masks on for extended periods and then get COVID-19 to only say "well idk how I got it". It's a product of their own irresponsible behavior. Which is why BAFTA addressed it in their changes, one change being for the Best Film category they randomly assigned 15 movies for a single member to watch for round one of voting (not to mention these titles are then made available for streaming to the member on their new BAFTA View platform). In turn, movies with a wider reach, bigger budget, and greater marketing don't have a competitive advantage over the lesser known indie films that are also up for consideration. Round two then has the members vote on the longlisted films, after watching all of them. Then, round three results in members voting on a winner and the members voting must have seen all of the movies they can vote for. The Outstanding British Film category was also expanded from 6 titles to 10, as BAFTA is a British organization they want to focus on promoting and fostering creativity along with championing local films.
There are plenty more changes and you can read about them as well as the full report here
So How Did That All Work Out?
With all of the aforementioned changes it is fair to ask, "well did that work?"
I'd say it worked incredibly well. This is one of the most diverse nomination groups in BAFTA history and probably film award history. Starting with Director, BAFTA absolutely decimated its previous record of female nominees, of course its previous record was 1 so take that with a grain of salt. But whatever you do do not downplay the significance of FOUR women nominated for Best Director, in a category of 6 nominations and women taking 4 of those nominations, it is a shift in the right direction of recognizing some incredible filmmakers. Not to mention this ends a decade long streak of all male nominees, so again how did we get here? Oh yeah, BAFTA's own ridiculous incompetence. The last and only woman to win this award was Kathryn Bigelow for The Hurt Locker, she was also the last nominated for Zero Dark Thirty.
Moreover, we have some nominees that have amazing performances and written works but haven't been recognized until now, many of which are non-white actors and actresses from smaller budget movies. So we could argue that the new longlist methods combined with the streaming and random assortment of film viewings for members have worked to expand the exposure of these films. Some notable nominations that deserve some praise:
Judas and the Black Messiah [2021]
Dominique Fishback (Supporting Actress) - Judas and the Black Messiah
While Judas and the Black Messiah is not an indie small budget film, Dominique's performance was certainly not recognized enough in the past awards (Globes, Critics Choice, etc) and undoubtedly deserves some recognition. Watching Fred Hampton (Daniel Kaluuya) be killed through her facial expressions and reactions is gut wrenching. A very well deserved awards nod here.
His House [2020]
Wunmi Mosaku (Leading Actress) - His House
Now here is the small budget indie movie with low to no press buzz getting the appropriate love. If you're dubious about this film I will remind you it is currently 100% on Rotten Tomatoes and is an incredibly harrowing horror film. Wunmi is compelling and a tremendous actress, and I'm always excited to see performances in horror films get the representation they deserve!
Rose Glass; Remi Weekes (Outstanding Debut By A British Writer, Director Or Producer) - Saint Maud; His House
Again, giving horror films the representation and praise they deserve. Both of these films are incredible debuts and suspenseful stories.
Also can't wait for what Rose and Remi follow up with!
(Casual shoutout to Nancy the cockroach in Saint Maud)
Rocks [2019]
Everything Rocks was nominated for
Rocks tied Nomadland for number of nominations with 7, and that's not just by mere coincidence. You don't simply tie the Oscar Best Picture front runner for nominations without being another impeccable film. Let's see what Rocks was nominated for here:
Leading Actress (Bukka Bakray)
Supporting Actress (Kosar Ali)
Outstanding British Film
Outstanding Debut By A British Writer, Director Or Producer (Theresa Ikoko, Claire Wilson)
Director (Sarah Gavron)
Original Screenplay (Theresa Ikoko, Claire Wilson)
Theresa Ikoko and Claire Wilson not only wrote a debut film that's up for 7 awards, but they also were nominated for Original Screenplay. From the wise words of hoodie Jason Sudeikis: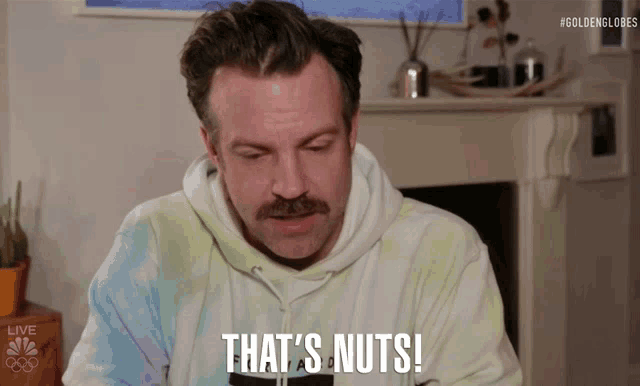 Via tenor
It is a true testament to recognizing incredible films that might not even be seen or appreciated before the changes BAFTA made.
Of course there are tons of films I didn't have a chance to hit on, but that's also the beauty of these nominations. As opposed to the 39 unique titles nominated last year there are a whopping 50 films nominated across all the categories this year. 50!!!
To wrap up my tirade of thoughts I'll just mention once again, probably the 50th time, that we really shouldn't even be in this situation. I shouldn't have to write any article saying "wow so glad the BAFTA nominated non-white men," nor should I be so impressed at the fact they made these changes in 2020/2021. However, BAFTA had a horrendous showing last year (in continuation of its shoddy record to begin with), but we're seeing intentionality that resulted in actual change. The nominations this year are proof of progress, moving in a positive direction to a future where this is the norm and not something that there are a bunch of news stories highlighting.
Lol also this puts some fire under The Academy's ass to follow suit and that makes me excited for the future of film awards and the praise to follow the diversity of the world.